About us
New York Dermatology Group in Manhattan is a unique practice incorporating state-of-the-art dermatology with other key medical disciplines in a platform that offers patients the most advanced skin and general health care anywhere.  Headed by leading dermatologist David Colbert, M.D., the team of physicians and specialists include board certified dermatologists, doctors of internal medicine, a plastic surgeon, a nutritionist, a doctor of acupuncture and skilled laser technicians. Patients have access to the complete range of procedures in both medical and cosmetic dermatology, can see our internist for general health concerns and our acupuncturist for stress, back pain and the other usual suspects. The advanced facility in a landmark building in the Flatiron District features the latest laser technology and a fully accredited* surgery suite.  And our dedicated and highly trained staff is fully committed to each patient's total well-being and ageless beauty.  Please visit us at 119 Fifth Avenue at 19th Street, or take the virtual Office Tour.
*NYDG is JCAHO (Joint Commission on Accreditation of Healthcare Organizations) accredited.  This prestigious 'gold seal' of approval signifies the highest medical standards and quality of care.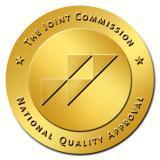 New York Dermatology Group was awarded
the prestigious accreditation of the Joint Commission
on Accreditation of Healthcare Organizations (JCAHO)
in January 2006.